UNCOVEROR EXCLUSIVE: MARS HOAX EXPOSED
by M. Grant Winston, Science Editor
After a long string of failures including the Japanese Mars probe Nozomi, British Mars probe Beagle 2, and several from NASA, we finally have landed working probes on the red planet. They are sending back spectacular pictures, and we are learning amazing things. This is how it seems if you trust the mainstream press. Conspiracy theorists have speculated that these pictures originate right here on Earth, and NASA is deceiving us. Are they a bunch of raving lunatics, or might they be on to something?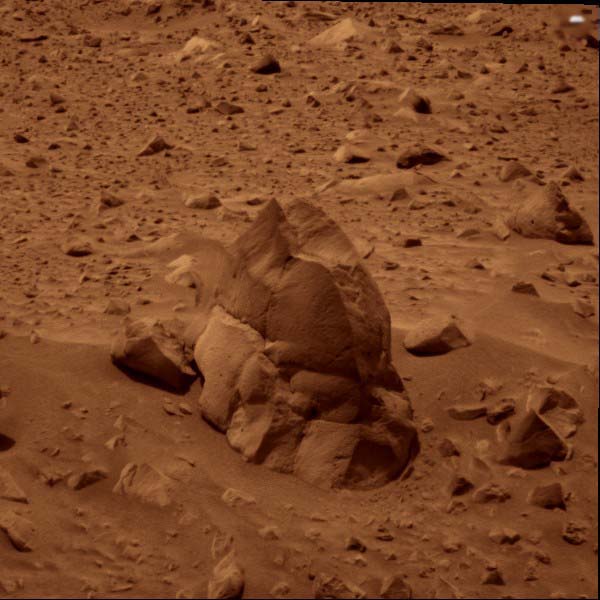 In the past, whenever Mars was in the news, The Uncoveror heard from former NASA employee and Mars expert Harvey Kurtz. This time, we have not heard from him. In fact, we have tried every means at our disposal to contact him to no avail. It is as if he has fallen off the edge of the world. Has someone silenced him so that he couldn't talk to us?
On February 23, we received an anonymous piece of mail containing a photograph of the Martian surface. At first glance, nothing seemed unusual, but we eventually noticed a white spot in the upper right corner. We wondered what it could be. Some of us speculated that it might be ice, proving that there is water on Mars. We also thought that maybe Harvey Kurtz had sent this photo, and it would speak volumes if we only had it analyzed. Toward that end, we contacted The International Institute for Photographic Analysis.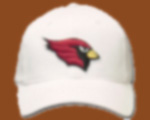 Dr. Marcus Von Vickersburg of the institute was able to isolate and enhance the anomaly for us. "Unless the Martians are Cards fans," he informed us, "this came form Arizona's Painted Desert." The enhanced enlargement of the white spot clearly reveals an Arizona Cardinals ball cap! NASA is perpetuating a hoax. We were shock and dismayed to learn this.
We are fearful for the safety of whoever leaked this to us. He or she must be on the inside, and close to the top. Harvey Kurtz would not have this level of access. Whoever sent this photo took an incredible risk, especially considering Mr. Kurtz's disappearance.
Why is NASA perpetuating such a fraud? Could it be that past Mars mishaps cost them funding from Washington? Are they willing to try anything to justify their continued existence to Congress? Maybe it is the White House they are trying to impress. One thing is certain. This photograph, now that it has come to light, will undoubtedly unleash a firestorm of controversy. You read it here first.