CHUPA PUP FOILS BOMB PLOT
Randolph Carter Smith
DUNWICH, MASS.
A grisly find in a farmhouse near Dunwich, Mass leaves authorities with one mystery solved but leads into another. Last Monday, federal authorities raided the old Frye farm. Upon entering the premises, the bodies of Hassan al-Beif and Mahmed Qandir were found in their beds. Both bodies had been drained of blood and mutilated. To deepen the mystery, no signs of forced entry were found nor were there any signs of a struggle; even though a significant stockpile of weapons and explosives were found in the house. Hassan al-Beif, 29 of Saudi Arabia, and Mahmed Qandir, 27 of Jordan, were both in the US under expired student visas. Both men were on the FBI's watch list of suspected Al-Qaeda terrorists, but law enforcement had insufficient evidence to hold either man.
An FBI spokesman stated that in cooperation with local law enforcement and the ATF, surveillance had been maintained on the Frye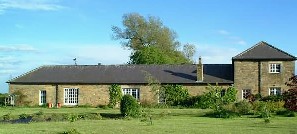 farmhouse, which the two suspects had purchased in May, 2000. The spokesman said that, the FBI, ATF, and Massachusetts State Police, executed a search warrant in connection with suspected federal firearms violations. What they were not prepared for was what they would find. In addition to the expected arsenal of assault rifles, handguns, knives, and ammunition, a significant quantity of chemicals were found which could be used to make an explosive similar to that used in Oklahoma City. Also plans for several malls, the federal building, and several unnamed tourist locations in Boston were also found. "It is plain," the spokesman said, "these terrorists were planning something big."
What investigators were not prepared for was the state in which the two suspected terrorists were found. Both suspects were lying in their beds. Both had been drained of blood and horribly mutilated as if by a wild animal. Even more shocking to the investigators was the fact that although weapons were within easy reach of both bodies, the building showed no signs of either forced entry or a struggle. An official spokesman for the FBI stated, "It is obvious that other Al-Qaeda operatives were tipped off to the raid, and punished the two for their incompetence in getting caught."
Unofficial contacts within the FBI and state police, state that the death of the two terrorists could not have been the act of Al-Qaeda as claimed in the official statement. "Al-Qaeda just doesn't kill that way. Were the official story true, they would have been shot or blown to pieces; not drained of blood and mutilated."
Our unofficial sources relate an unlikely chain of events which the FBI and ATF do not wish to admit to.
As already mentioned, both bodies were drained of blood and mutilated, and there were neither signs of forced entry nor a struggle within the structure. Outside of the structure, paw prints similar those of a small dog were also found. The unusual aspect of these prints was that they indicated an animal, which walked both on all fours and upright. Sources also report that surveillance tapes made on the night before the raid apparently show everything normal around the house, but a small shadowy figure can be vaguely made out.
Officially, the form has been referred to as "a raccoon or other small creature common to the area." Furthermore, a Boston couple who were camping approximately two miles from the Frye farm reported that the night had been mostly quiet. However, at about 10pm they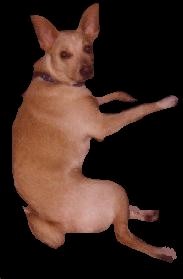 saw what appeared to be a pair of eyes staring at them from just beyond the range of their firelight. The also reported that when they saw the eyes, they experienced an indescribable fear, bordering on panic, an inchoate sense of evil lurking just beyond the firelight. This sense disappeared when the eyes left. All of these occurrences match known sightings of or attacks by the chupa pup, a creature alleged to be a cross-breed of man's best friend, and El Chupacabra. What doesn't make sense to our contact with the state police, who has been tracking the animal since it first appeared, is that the chupa pup did not attack easier prey which was available, including several goats which were maintained at the Frye farm by the suspects as part of their cover. "It was definitely the chupa pup which did this," our informant stated, "but when we catch the thing I don't know if I should shoot it or pin a medal on it. When we moved in on the farmhouse, we were expecting a major firefight. That little beast saved us a lot of trouble."