CASTRO IS DEAD
CIA RUNS CUBA
Fidel Castro died in 1981, and was replaced by a look-alike CIA plant. The dictator ate tainted shellfish and died. CIA infiltrators wasted no time in covering this up, and installing an agent named Alexis Papagos to impersonate Castro, and run the country. This information comes to THE UNCOVEROR via Cuban national, Igor Davidovich Martinez.
Why, then, does the U.S. government maintain the embargo against Cuba? "The CIA is turning a great profit by selling contraband Cuban goods on the black market," says Martinez, "and they don't want to give that up." The CIA sees to it that the embargo stays.
What tipped Martinez off? Before 1981, the real Fidel Castro nearly always wore a military uniform. After that year, "Castro," really Alexis Papagos, appeared more often in civilian clothing.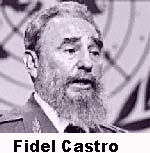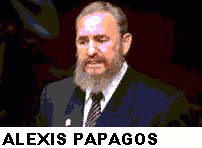 This prompted Martinez, and several others to start digging. Of those who discovered this deception, only Martinez remains alive.

The plot almost failed. A few people in 1981 heard of Castro's death, and began a rumor that he had died of syphilis, but the CIA quickly made those people, some of them Americans, Disappear. They needed the world to think that Castro was still alive. They didn't want you to know, but thanks to THE UNCOVEROR, now you do.

You might not be able to buy Cuba cigars online but you can find plenty of things, like computer parts as well as rollerblades. Even if you don't need to buy parts or a new set of roller blades you'll still find interesting stuff.